Rishikesh is home to many religious sites, including numerous ashrams and ancient temples. As one of the Holiest locations in India, it is also known as the Yoga capital of the world, and it is no wonder Rishikesh has been attracting spiritual practitioners from different traditions since decades. Since the ancient times the sages and rishis have visited Rishikesh to practice austerities and meditate in search of the ultimate goal of life – self-realization. The presence of the sacred river Ganga together with the surrounding Himalayas creates an auspicious and purifying atmosphere for one's spiritual life. In the Bhagavad Gita we can find that Ganga is none other than Lord Krishna Himself in the form of water (river), and Himalayas, the greatest mountains in the world, similarly represent Him. Lord Krishna Himself says;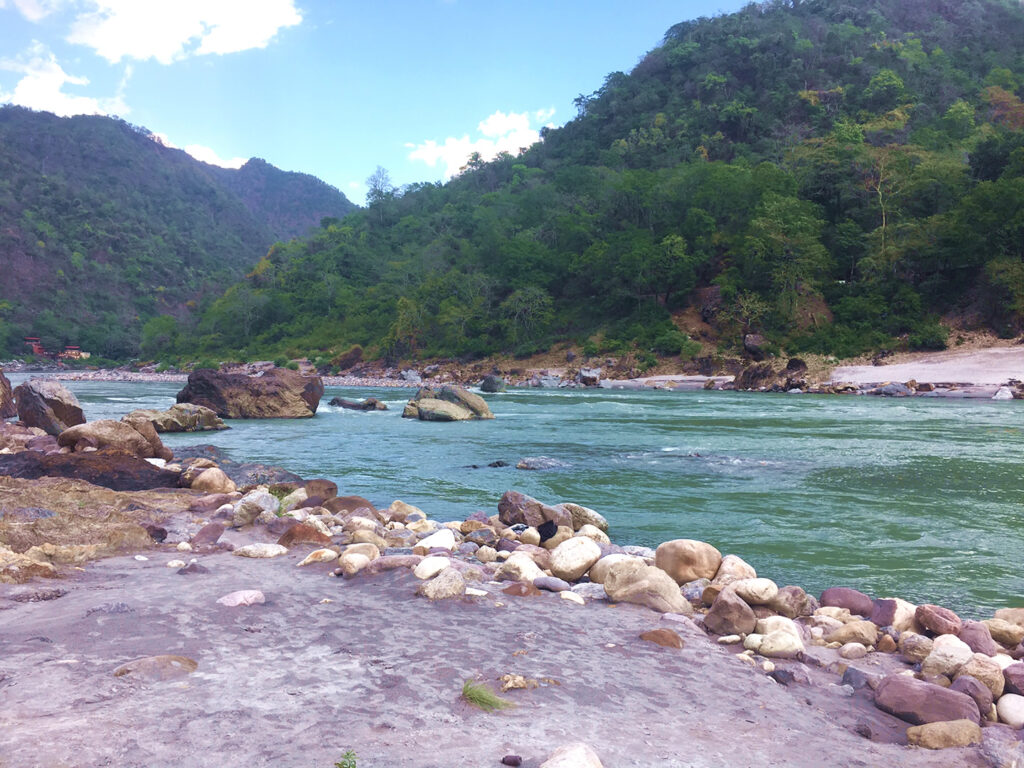 "Of purifiers I am the wind; of the wielders of weapons I am Rama;
of fishes I am the shark, and of flowing rivers I am the Ganges."
BG 10.31
"Of the great sages I am Bhrgu; of vibrations I am the transcendental om.
Of sacrifices I am the chanting of the holy names [japa],
and of immovable things I am the Himalayas."
BG 10.25
Rishikesh is named after Lord Hṛṣīkeśa. Hṛṣīkeśa is a name of Vishnu that means 'Lord of the senses' – Hrishik meaning the Senses and ish meaning the master or the Lord. The place gets its name after Lord Vishnu, who appeared to a sage called Raibhya Rishi as a result of his intense tapasya (austerities). After Lord Vishnu's appearance to him, Raibhya Rishi appreciated the sacredness and beauty of the place so much that he remained there in form of intense plants, which looked like his matted locks. In consideration of this and the divine qualities of Raibhya Rishi, the area is recognized as Rishi Kesha or Rishikesh, or the hair of the Rishi (Sage).
Rishikesh is also the starting point for the Hindu Char Dham pilgrimage, including Yamunotri, Gangotri, Kedarnath and Badrinath.
Are you interested in guided spiritual tours in the Holy locations of North India?
Overview
Temple Opening & Closing Dates
Itinerary
FAQs
Yatra by Helicopter
Overview
As Rishikesh has always been famous for its Yoga Retreats and Kirtans, alongside with it the Char Dham Yatra (Four Dham Yatra) has been the highlight of summer vacations for many people looking to go deeper into the spiritual roots of India. Char Dham Yatra is an integral part of Vedic wisdom and culture, and during the first 45 days of Darshan opening in Kedarnath, more than 7,35 lakh people took Darshan of the Divine shrines!
ISKCON Rishikesh introduces the Chota Char Dham Yatra Tour packages for the season 2022!
Our tours are affordable and including all required professional services. The packages start either from Delhi, Haridwar or Rishikesh, and the details of the packages, such as the number of the days, can be customized according to personal requirements.
ISKCON Rishikesh has been organizing fixed departure group tour packages to Yamunotri, Gangotri, Kedarnath, Badrinath and Valley of Flowers every year from April to November. We also offer special customized tours to meet the specific requirements of the visitors!
Visit the Sacred Char Dham of India now with ISKCON Rishikesh!
Our tours are fixed departure low-cost tours for groups by AC or Non-AC busses and for private tours by Innova or Tata Sumo. Due to a lot of bookings, you are advised to book your Char Dham tours by ISKCON Rishikesh in advance!
We also organize trips to various Sacred places around India, such as Jagannath Puri, Rameshwaram, Tirupati and Vindavan.
Temple Opening & Closing Dates
Itinerary
FAQs
Yatra by Helicopter